Siacoin is a cooperative and decentralized network that stores data using smart contracts. David Vorick and Luke Champine founded Siacoin. It allows the user to sell storage space with others. It is the blockchain equivalent of dropbox, Google Drive, or other cloud storage platforms, but the best part is it is a decentralized system.
The drawback of the SC coin is that it has no maximum cap of supply, but it uses a proof of Burn mechanism to control circulation and inflation. It allows the user to store data in different places, and it uses a redundancy algorithm to get back the data from different sources when users want to access it. All these files are secured with encrypted data. Moreover, it offers all of its services at a lower cost than cloud-based services.
The main drawback is its lack of user-friendliness; the dashboard is not intuitive enough. However, the developers are working on it. Another problem is scalability because users want more storage as their data grows as technology advances. Let's see how they solve this problem in the future.
Till now Siacoin team did not market their services, but they are getting good responses without marketing. It gives a good opportunity to grow their team and secure their position in the market.
Siacoin is trading around $0.008 at the time of writing. In the short term, the coin is consolidating between the range of $0.01 and $0.007. The price is near the support level, but we have to consider the daily chart for better analysis.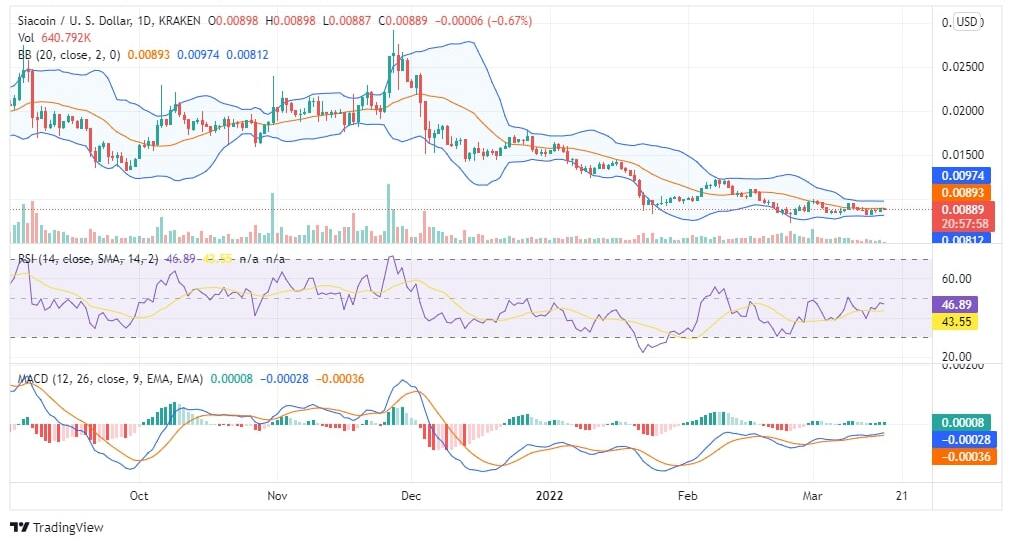 On this chart, the MACD is bullish; the RSI is around 45, and candlesticks are around the baseline of the BB. That is why we think it is the ideal investment time for the short term. To know more about Siacoin's future potential, click here.
However, on the weekly chart, it is bearish. The chart is consolidating between a range, which means it can be a good trade for the short term, but it will not be worth investing in for the long term.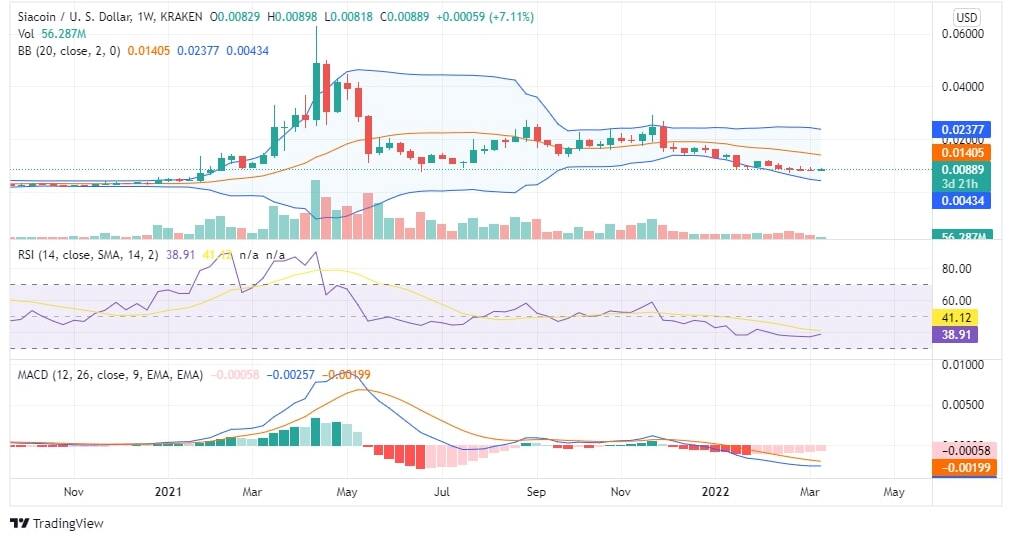 In this chart, the MACD is bearish, and the RSI is below 41. Interestingly, the last few candlesticks are in the lower section of the BB indicator. Most of the indicators are bearish on the weekly chart. You should not invest for the long term until it breaks the upper level of $0.026. so we recommend this chart for the short term with the target price of $0.02. The price can be volatile this year, so please follow our website to get the latest update on the crypto market.