ATOM was trading around $3.12 on September 13, 2019 at 21:05 UTC. Price of ATOM continued to rise for a short span just before it saw a drop and touched $2.97 the next day. Since September 14, 2019 the coin has managed to gain back its momentum and started to show an upward momentum. With consistent performance, it reached as high as $3.53, yesterday. While writing this analysis, price of the coin was $3.5215, and marked a bullish trend.
ATOM price analysis: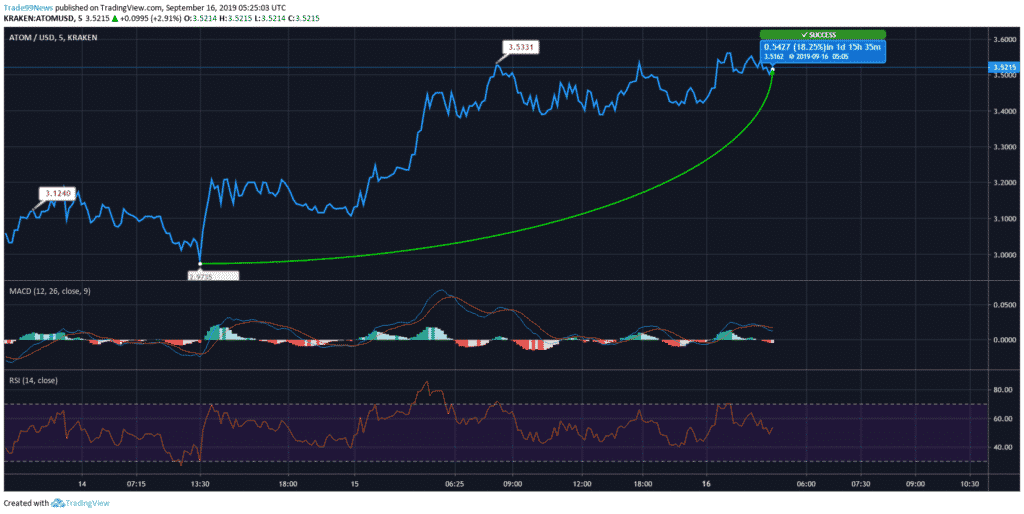 ATOM's current trading price reflects a bullish run by 18% as compared to prices of September 14, 2019 when it was valued at $2.97.
The present price and its movement indicate that the coin is rising upwards and we anticipate that the same trend will continue tomorrow as well. ATOM can be traded around the trading price of $3.58 soon.
The MACD indicator exhibits a slight bearish crossover as the signal line crossed the MACD line at the time of penning down. The RSI indicator remains around 50 with major extremities in the overbought region. At present there are no extremities. We strongly recommend purchasing new coins and retain the same for a long-term.