Binance is a popular cryptocurrency exchange platform, and BNB is the native token of this platform which you can use to stake, trade, or swap coins. The users get 50% off in trading fees who use BNB on that platform for trading activities.
It is an ERC 20 token with a hard cap of 200 million. It is also used to make gas payments on the decentralized exchange. In 2018, it added new features for the users to collect dust. Moreover, it can be traded on the open market and stored in any wallet that supports ERC 20 tokens. Binance burns some coins to reduce the supply in every quarter.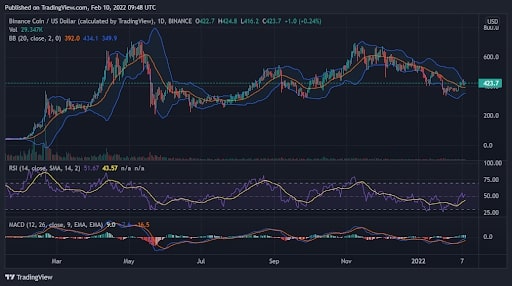 Currently, it is trading at around $424. It formed a strong support level of around $370. Now it is bullish and technical indicators are also supporting this view. On the daily chart, the MACD and RSI are bullish, which is good for short-term bullishness. Moreover, the Bollinger Band is bullish, and candlesticks are in the upper half. Overall, it is bullish in the short term, but we think the problem lies in the downtrend, which started in December. Is it the end of the bearishness, at least for now? A weekly chart will give a better view of it.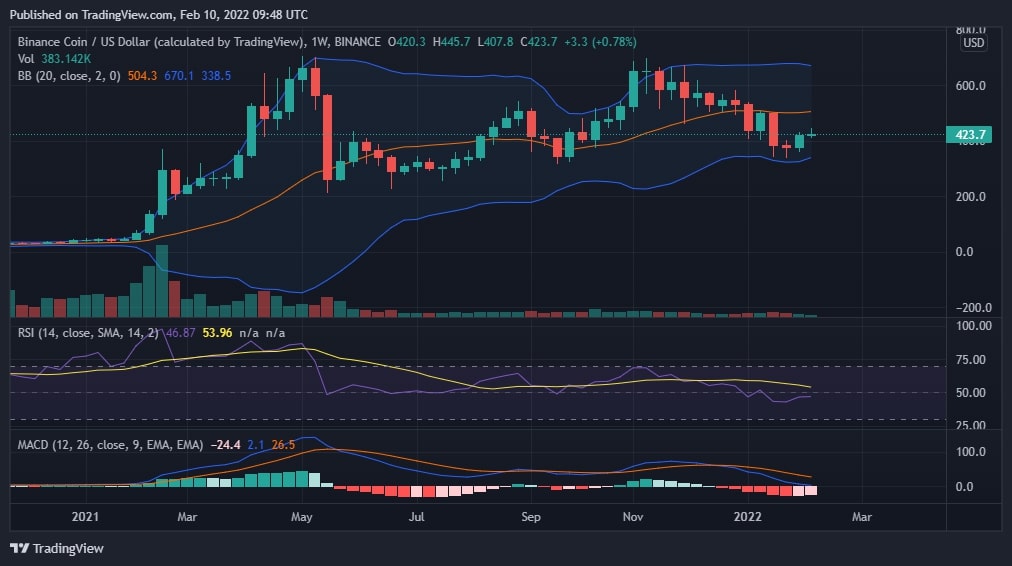 The weekly chart has been forming higher lows and higher highs, which is great. Even in this chart, the story is the same- MACD, RSI, Bollinger Band, and many other popular technical indicators reflect bullishness.
However, $660 is a strong resistance level because it came down from that level twice last year. Will it break the level now? Traders should explore experts' BNB price predictions to get more details on the future potential of this coin. We think it is the right time to buy this coin because it has a bullish sign, but there is a red engulfing candlestick because it is trading around the previous support level. It will break the level in the next few days.
Indeed, Binance is a popular cryptocurrency exchange platform, and there are many benefits of this coin, especially on this platform. Besides that, many merchants (partnered with Binance) accept this coin as a payment mode.  
BNB has a great future, and the price will go up at least to the previous ATH. It has the potential to break the level this year. If you want to invest, you should research more about the coin and start investing for the long term. It will provide a handsome return in the future. Please do not sell this coin; if it goes bearish, buy it at least for two years.