Bitcoin Cash is an upgraded version of Bitcoin which has many similarities with BTC. Though it follows the original version of the electronic peer-to-peer system, it has many new features to make a difference from the original coin, and that is why it is considered a fork of Bitcoin.
The features of Bitcoin Cash are:
It is a decentralized system, so no one can control it. 
The users' identities are not revealed during transactions, so it is free from any censorship. 
All transactions are saved on a public ledger which is also called a blockchain. Anyone can see the full history of transactions to prevent fraud. 
The nodes follow the consensus, but protocols can evolve with demand. 
It is a quasi-political system. 
Once the transactions are recorded, they cannot be altered. 
It uses proof of work consensus so breaking the security is tough. 
It has a hard cap of 21,000,000, making it an asset like gold. 
Fast, reliable, and affordable borderless transactions of any value. 
The above features make Bitcoin Cash perfect for long-term holding, and it can be treated as a medium of exchange and an asset.
Will BCH provide a huge return like BTC? Let's analyze the price chart of BCH USD.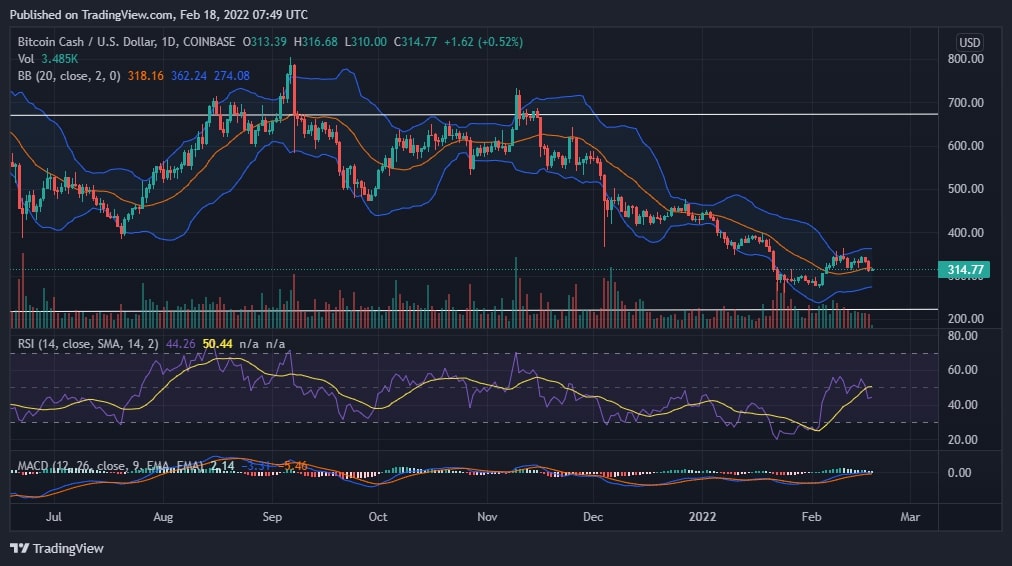 At the time of writing, the price of BCH is trading around $314. after taking initial support of around $280, it is rising to the upper half of Bollinger Band. In this short term, MACD is bullies, and RSI is 45. Now the Bitcoin Cash price is taking support on the baseline of the Bollinger Band.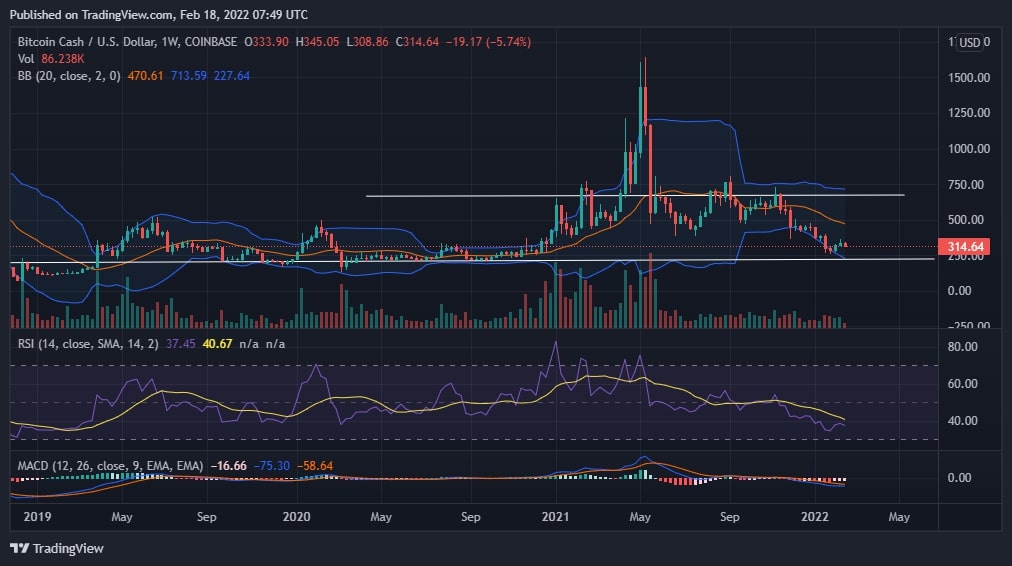 However, in the long term, $230 is a strong support level, and $630 is a strong resistance level. We think that this year, the BCH price chart will consolidate in this range. On the weekly chart, the MACD is bearish, the RSI is in the oversold zone, and the candlesticks are in the lower half of the BB. Indeed, in the long term, the chart is bearish. Traders or investors should read more about the coin's detailed forecasts and analysis before entering into the trade to avoid unnecessary losses.
The investors may see a range-bound sidewise movement, which gives you a better opportunity in the short term. We do not think it is the right time for investment for the long term because it does not show bullishness in the long term. It is in a consolidation period, so it would be better to book short-term profits. If you are interested in investing in Bitcoin Cash for the long term, you must research it on your own before investing. We think the BCHUSD chart will come down further and take support around $250, and that will be a better time to buy for the short term.